"Hello Lamp Post!" should truly make life interesting in Bristol this year.
If a mailbox could speak, what would it say? Anybody who's ever wondered about that question, should book it down to Bristol this summer. Around then the city's post boxes, lamp posts, bus stops and trash cans will become fully sentient, aware of what they are and able to hold discourse with members of the public.
This eccentric public-art project, called "Hello Lamp Post!," is the work of London creative firm PAN, who recently won Bristol's "Playable City Award." The contest challenged designers to forge a technological system that can "inject a sense of wonder and meaning into public space." PAN's solution was to allow pedestrians to use their phones to chat up inanimate features of the urban landscape, like a bunch of nearsighted Mr. Magoos.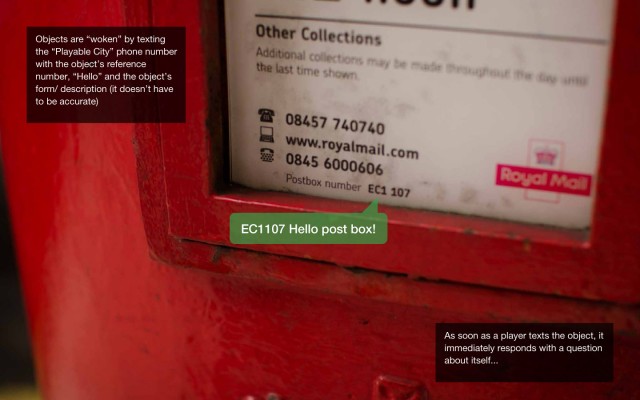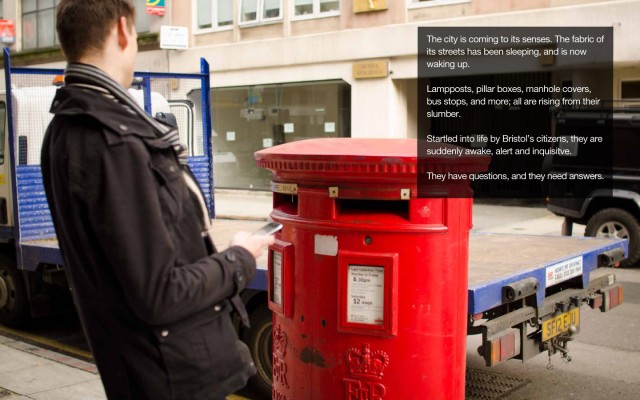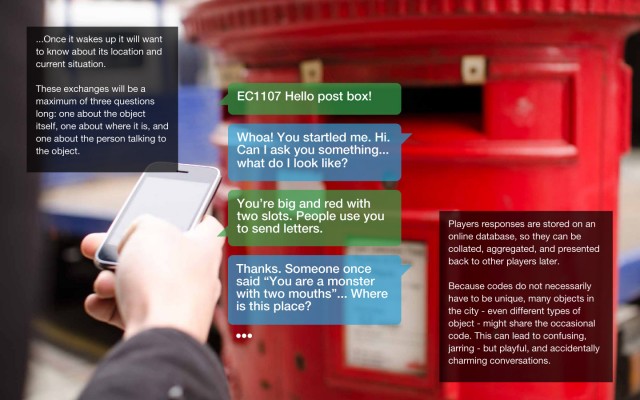 Objects are "woken" by texting the 'Playable City' phone number with the object's reference number (everything has a number on it) and saying hello. The conversations people have are later available online through the Hello Lamp Post! Website – having been converted into audio with a text-to-speech program. A radio-like interface allows users to "tune" into the various objects around the City, giving a sense of how people across the city are talking with its objects.
The potential is there for player-fueled narratives to emerge, and for ideas to have their own lifecycles throughout the project.
PAN is an experience-production studio who wants
to fuel an ongoing discussion on the relevance of experience in design. Here is the philosophy behind their ideology:
"We believe everyone should be able to live the most enriching life possible, and should have an understanding of the value in first-hand knowledge. We propose that to live, not just subsist, should be our collective raison d'etre. To this end we want to explore the relationship between design, the arts, education, entertainment, leisure, philosophy, psychology, developing technologies and culture to help make lives richer, more varied and more rewarding. If we can really, critically understand the way people's emotional, sensational and intellectual needs are changing (due in part to the catalytic effects of emerging technology) then we can approach issues that are currently affecting society, and will effect it in the near future."
More at http://panstudio.co.uk/2012/12/the-playable-city/